---
Guided Tour
---
Once you turn East on Millbrook Road from Winn Road and pass the first crossroad, look for our mailbox on the north side of the road and our sign on the south side of the road.
The sign in the wrought iron heart means you have found our driveway.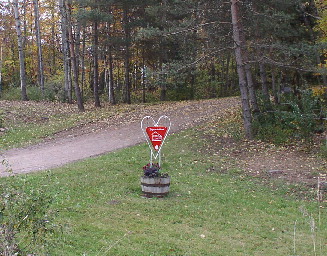 When you see the vinyl post with the artist's "Antique" sign on the right side of the driveway you have reached our shop.
Our porch-covered double doors welcome you to our shop which has an assortment of antiques, crafts, furniture, candles and other items for your shopping pleasure.
For a preview of new finds and featured inventory visit our Facebook page under "Antiques on the Side". Be sure to select the one with the red logo featuring the shape of our building. See you on Facebook.
Thank you for touring ANTIQUES on the Side. We look forward to your visit.
---
Antiques on the Side
antiques@antiquesontheside.com
url for this page: http://www.antiquesontheside.com/tour.html